A Few Things....Future of Capitalism, Surprises and Doing Great Things
January 12 2020
A. I've been giving some thought to the need to change Capitalism.
In the 1930's John Maynard Keynes predicted that capitalism would last for about 450 years.
Starting from 1580 (when Queen Elizabeth invested Spanish gold stolen by Francis Drake) to 2030, when Keynes assumed humanity would have solved the problem of our needs and moved to to higher concerns.
Keynes and his policy vision fell out of fashion when the laissez-faire fundamentalism & shareholder supremacy championed by Milton Friedman carried Reagan and Thatcher into global power.
Friedman & his disciples see the market as maximizing individual man's freedom to pursue his self-interest and since the pursuit of self-interest is simply human nature, maximizing collective well-being. For him, capitalism was the means and the end.
For Keynes, on the other hand, there had to be something more than just money-grubbing. Quoting Keynes from "Economic Possibilities of Our Grandchildren":
The love of money as a possession - as distinguished from the love of money as a means to the enjoyments and realities of life - will be recognized for what it is, a somewhat disgusting morbidity, one of those semi-criminal, semi-pathological propensities which one hands over with a shudder to the specialists in mental disease.
Having being a Friedman disciple my whole life, I am beginning to come to the conclusion that Keynes was right about capitalism - the system as it is today was not supposed to be sustainable for 500 years. At a certain level of technological development and capital accumulation, Capitalism becomes not merely exploitative & genocidal, but difficult to reconcile with humanity itself.
Which begs the question what comes next, what needs to change and how do we do it ?
There is a lot noise here. Lots of agendas and groups. There is the discussion on climate change, the discussion on labour conditions, the discussion on AI & the future of work. Lots of strands.
So how do we reconcile all of this and move forward ?
I think two ideas help us rethink our 'social contract':
A. John Mackey's (Whole Foods founder & co-CEO) - Conscious Capitalism
B. Marianna Mazzucato - Mission-Driven state.
I'll focus on Conscious Capitalism this time.
The term Conscious Capitalism envelopes ideas like ESG and Impact Investing, and deals with issues like global warming and climate change.
First some definitions, how is Conscious Capitalism different from Corporate Social Responsibility (from Mackey's book):
Mackey discusses some of these ideas in his book, co-written with Raj Sisodia. He views Conscious Capitalism as a way of thinking about business that is more conscious of it's higher purpose, it's impact on the world, and the relationships it has with various constituencies and stakeholders. It reflects a deeper consciousness about why businesses exist and how they can create more value.
Conscious Capitalism has four tenets: higher purpose, stakeholder integration, conscious leadership, and conscious culture and management.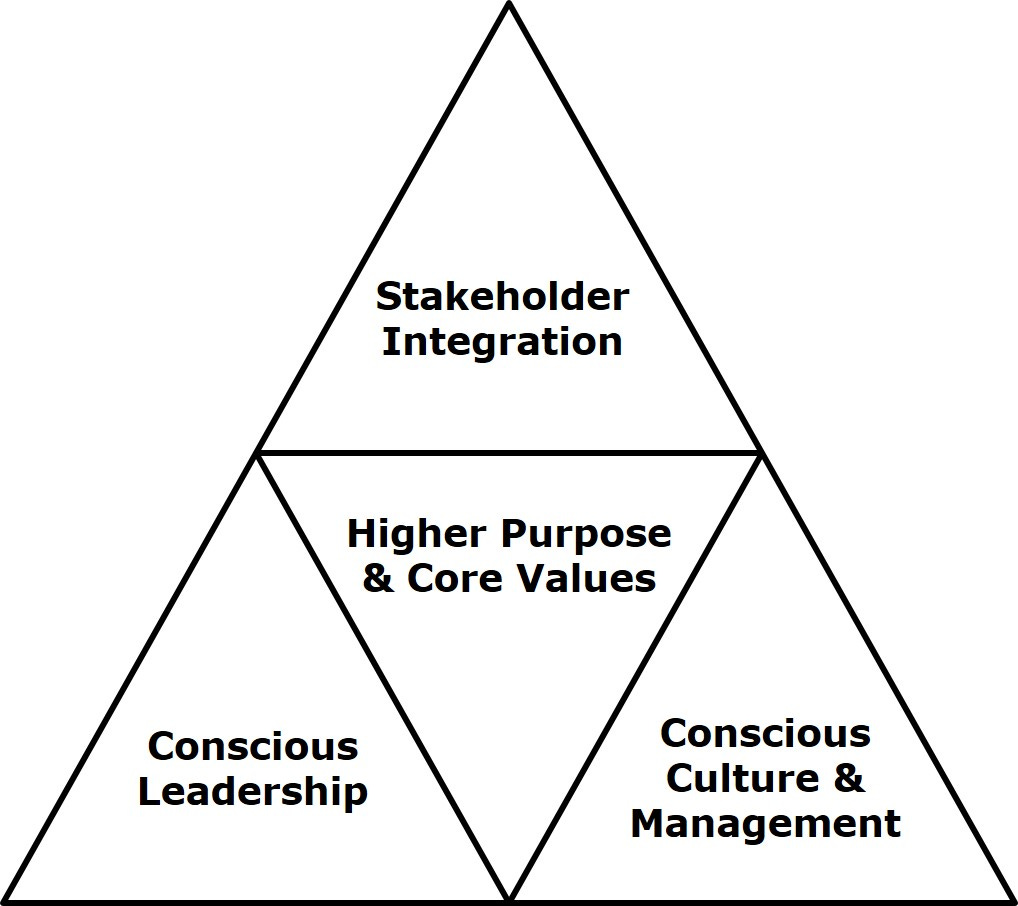 I'm a numbers guy, so while all this talk is fine, I know if it doesn't make money in the long run it just won't work. This is where things get interesting.
In Firms of Endearment: How World-Class Companies Profit from Passion and Purpose, Raj Sisoda and his co-authors selected companies on the basis of their humanistic profiles (purpose; how well they were loved by their customers, employees, suppliers and communities; their cultures; and their leadership), not their financial performance.
The stock market performance is below, compared vs Jim Collins "Good To Great" companies for good measure.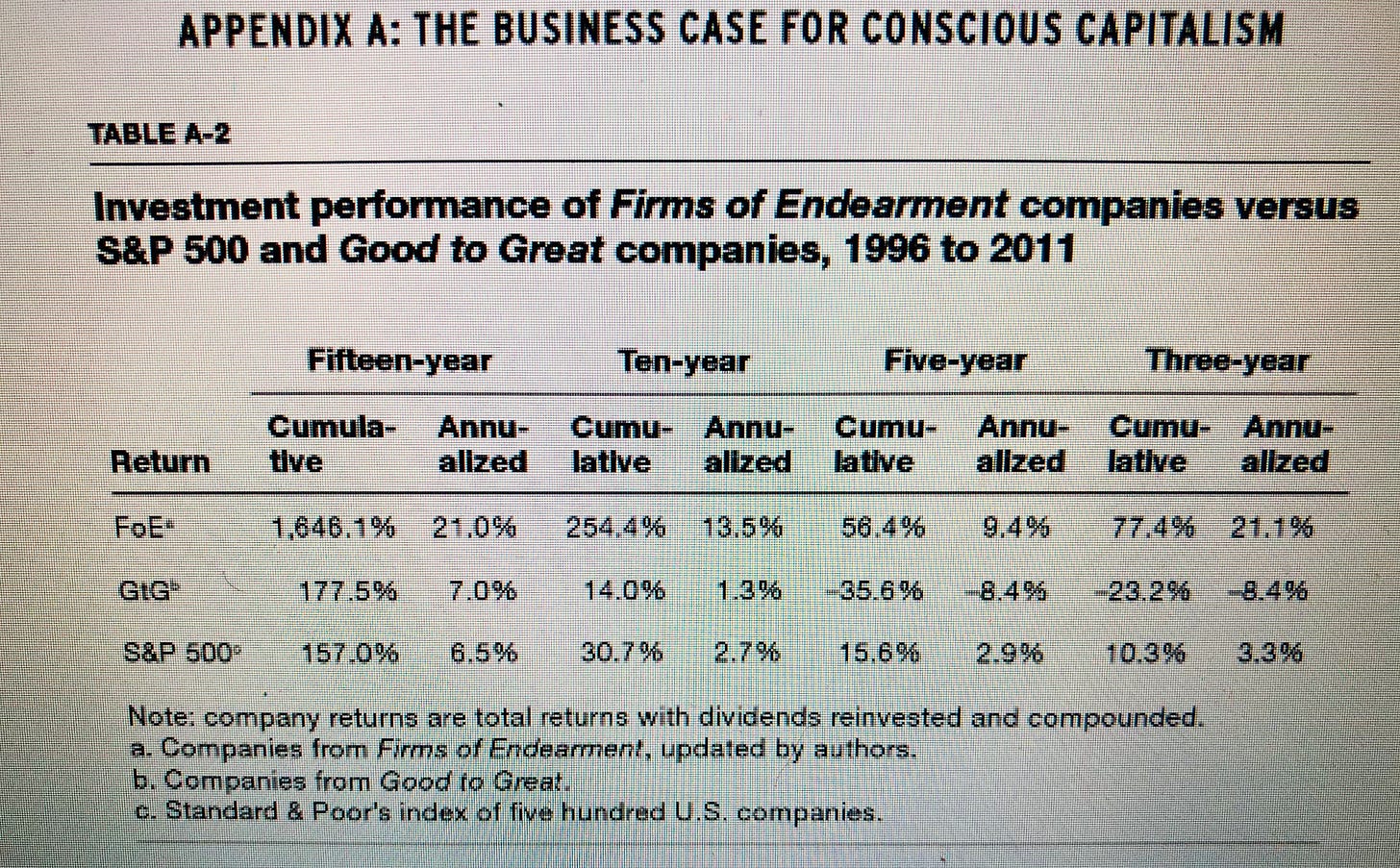 The numbers surprised me.
How could the firms "doing good" also do that well ?
Mackey's explanation is that:
These companies generate very high levels of sales because they excel at creating value for customers; they willingly operate with lower gross margins than they are capable of, yet they achieve higher net margins than their traditional counterparts. Over time, conscious businesses develop sterling reputations and grow faster. They attract more loyal customers, committed team members, higher-quality suppliers and generate greater community goodwill. All of this helps these firms earn more and receive higher valuations relative to their earnings.
So how to get started ?
You can be good, while being financially great. Step 1: what is your company's purpose. Having a higher purpose is the starting point of what it means to be a conscious business.
As Jeff Bezos says:
"Choose a mission that is bigger than the company. The founder of Sony sets the mission for the company that they were going to make Japan known for quality"
If you need some inspiration, check out Simon Sinek's Start With Why, that's a sure way to find your purpose.
That's a lot to chew on, so I will leave it there.
Two other books that helped me think about the new way to build companies was: "The Participant Revolution" by Neil Gibb and "The Starfish and The Spider" by Ori Brafman.
---
B. Only Surprises Move The Market
Byron Wien has been writing his list of Ten Surprises for 35 years. Byron defines a "surprise" as an event that the average investor would only assign a one out of three chance of taking place but which Byron believes is "probable," having a better than 50% likelihood of happening. 
This year's list inspired some thought.
The three that seemed really surprising to me:
5. Emboldened by the pain of economic sanctions, Iran takes advantage of America's unwillingness to intervene and steps up acts of hostility against Israel and Saudi Arabia. The Strait of Hormuz is closed and the price of oil (West Texas Intermediate) soars to over $70/barrel.
8. Having secured a workable Brexit deal, the United Kingdom turns out to be the winner in its divorce from the European Union. The equity market rises and the pound rallies. The UK benefits from a long transition period, and growth exceeds 2% as foreign direct investment resumes now that the outlook is clarified. The EU economy remains soft, and European markets other than the UK underperform the US and Asia.   
10. The problems with Boeing's 737 Max are fixed and deliveries begin.  The plane becomes a mainstay around the world, enabling airlines to operate more efficiently and increase profits. The stocks become market leaders.  
What do you think will surprise us in 2020 ?
---
C. What Will You Do With This Amazing Decade ?
I want all of us to look back in ten years time and be amazed by what we got done. But sometimes just getting started is hard. Here are some questions and ideas that have helped me make sense of my life.
A year from now, what will you wish you had started in Jan 2020 ?
Three questions to help you answer what to start on:
1. What can I be the best in the world at in five years?
2. Three years from now where will I have to be in order to be satisfied with my progress?
3. What advice do you think your 80 yr old self would give you?
And one life hack to help you with this question:
Imagine the world is conspiring to help you. See everything around you as an opportunity. You're an operative trained by the super-intelligence of the universe to make sure it realizes its destiny. If you see everything as an opportunity, it is one.
---
D. A Few Things Worth Checking Out:
1. Paul Graham always asks great questions. Here's a great thread on Twitter.
2. The great Fred Wilson (co-founder of Union Square Ventures) shared his views on What Will Happen In The 2020's - I agree with all of them, you ?
3. What Is The Most Valuable Thing You Can Learn in One Hour ? (from a techie's perspective)
4. What were the books that defined the 2010's ? (according to the Guardian) I haven't read any of the fiction.
5. Q4 2019 Hedge Fund Letters have begun to come out, you can track them on this reddit thread.
6. Jim Chanos (Wall St. short seller) Yale School of Management Lecture Notes.
7. Great McKinsey article - Could Roger Federer be as successful playing badminton? Where you play is more important than how you play.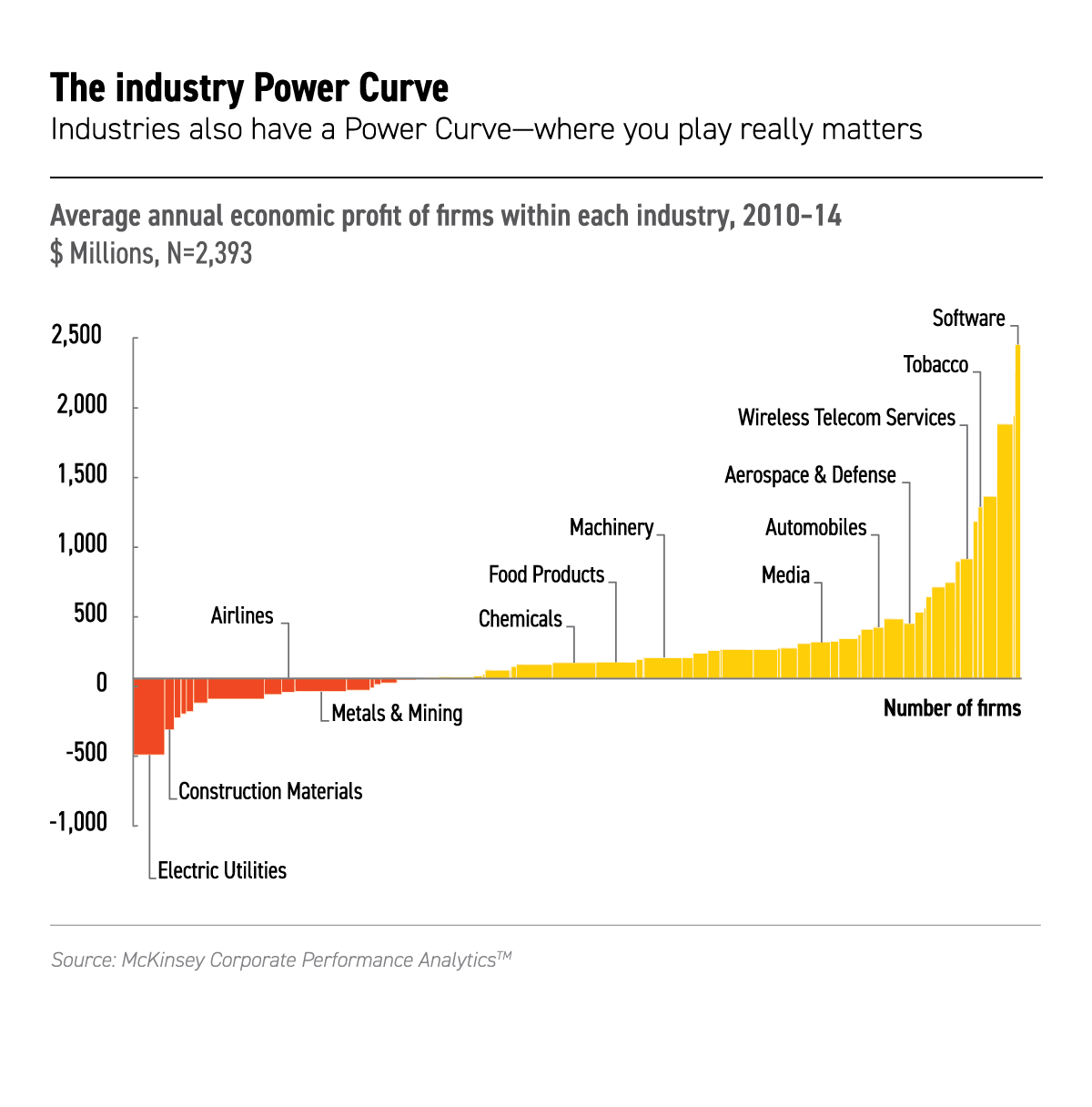 ---
E. Quotes I've Been Thinking About:
We have what we seek. It is there all the time, and if we slow down and be still, it will make itself known to us.
- Thomas Merton (thank you Tim Eyles)
What makes life worth living? No child asks itself that question. To children, life is self-evident. Life goes without saying: whether it is good or bad makes no difference. This is because children don't see the world, don't observe the world, don't contemplate the world, but are so deeply immersed in the world that they don't distinguish between it and their own selves. Not until … a distance appears between what they are and what the world is, does the question arise: what makes life worth living?
— Karl Ove Knausgård (thank you Tim Ferriss)