Discover more from A Few Things....
A Few Things discovers, curates and synthesises the big ideas across markets, technology and the good life.
Over 3,000 subscribers
The Wall Of Worry, US-China and Alchemy
 "Never wrestle with a pig because if you do you'll both get dirty but the pig will enjoy it."
- Charlie Munger
"I'm not afraid of storms, for I'm learning how to sail my ship."
- Louisa May Alcott, Little Women
"A true friend is one who likes you despite your achievements."
- Arnold Bennett
A. Climbing The Wall Of Worry
Since the FOMC announcement last week, we got further news that:
a) FED would buy corporate bonds
b) There might be $1-2 trn more of fiscal spending and
c) That the US consumer is recovering strongly.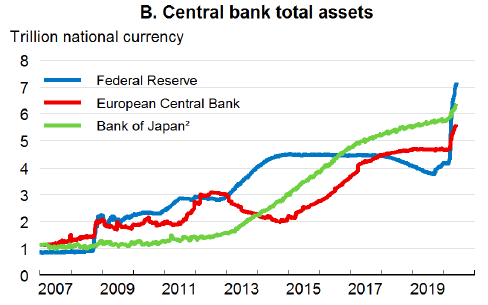 What now?
I think the economic data will continue to get better (how could it not). Earnings will continue to improve vs a backdrop of low expectations, lack of guidance. With the protests in the last two weeks, we should either get a spike in COVID cases in the next few days in the US and UK. If we get through that, we might have a summer where the data is improving and the FED & Govt. continues to add stimulus.
Given all the FED help, some will argue that the FED is preventing the system from clearing properly and that is obviously true. But what is the option ?
Zooming out a bit, it's also clear that the government will get bigger through monetary expansion, effectively expropriating capital from the economy to sustain itself.
Since the early 1900's, US govt. spending has grown at a steady pace.
What a consistent trend to bet on.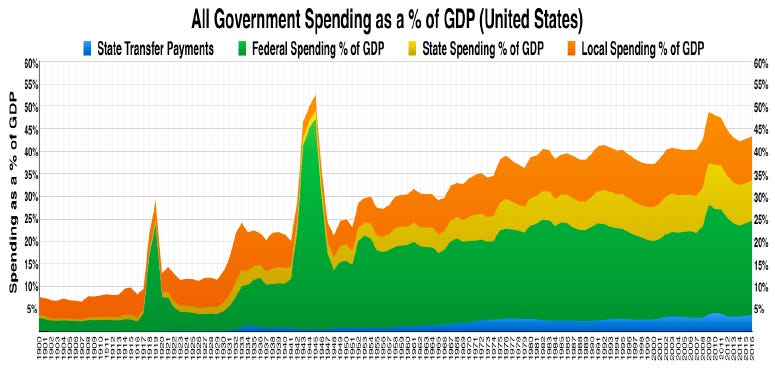 We continue to see this spending and monetary stimulus, while Bank of America thinks the Bull & Bear indicators are still signaling bearish sentiment and every day I see a bear flip to being a bull.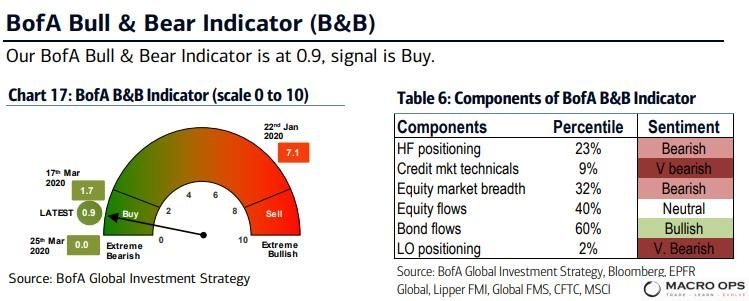 That is the wall of worry we climb.
This equity rally continues to have legs.
---
B.
The US Strategic Approach to the People's Republic of China
The nature of the US - China relationship is fundamentally changing and it will impact the global order and markets.
I don't think it's just an election year thing.
One of the most important documents of this year came from the Whitehouse a few weeks ago, but was buried under the protests, COVID deaths, and economic news.
Here's the introduction (all emphasis is mine):
Since the United States and the People's Republic of China (PRC) established diplomatic relations in 1979, United States policy toward the PRC was largely premised on a hope that deepening engagement would spur fundamental economic and political opening in the PRC and lead to its emergence as a constructive and responsible global stakeholder, with a more open society. More than 40 years later, it has become evident that this approach underestimated the will of the Chinese Communist Party (CCP) to constrain the scope of economic and political reform in China. Over the past two decades, reforms have slowed, stalled, or reversed. The PRC's rapid economic development and increased engagement with the world did not lead to convergence with the citizen-centric, free and open order as the United States had hoped.
The CCP has chosen instead to exploit the free and open rules-based order and attempt to reshape the international system in its favor. Beijing openly acknowledges that it seeks to transform the international order to align with CCP interests and ideology. The CCP's expanding use of economic, political, and military power to compel acquiescence from nation states harms vital American interests and undermines the sovereignty and dignity of countries and individuals around the world.
To respond to Beijing's challenge, the Administration has adopted a competitive approach to the PRC, based on a clear-eyed assessment of the CCP's intentions and actions, a reappraisal of the United States' many strategic advantages and shortfalls, and a tolerance of greater bilateral friction. Our approach is not premised on determining a particular end state for China. Rather, our goal is to protect United States vital national interests, as articulated in the four pillars of the 2017 National Security Strategy of the United States of America (NSS).
We aim to:
(1) protect the American people, homeland, and way of life;
(2) promote American prosperity;
(3) preserve peace through strength; and
(4) advance American influence.
Our competitive approach to the PRC has two objectives: first, to improve the resiliency of our institutions, alliances, and partnerships to prevail against the challenges the PRC presents; and second, to compel Beijing to cease or reduce actions harmful to the United States' vital, national interests and those of our allies and partners.
Even as we compete with the PRC, we welcome cooperation where our interests align. Competition need not lead to confrontation or conflict. The United States has a deep and abiding respect for the Chinese people and enjoys longstanding ties to the country. We do not seek to contain China's development, nor do we wish to disengage from the Chinese people. The United States expects to engage in fair competition with the PRC, whereby both of our nations, businesses, and individuals can enjoy security and prosperity.
---
C. The Science of Alchemy and Behavioral Science
One of my favorite people is Rory Sutherland, last year he wrote a book titled: Alchemy - The Surprising Power of Ideas That Don't Make Sense.
He's currently the Chairman at Ogilvy and started their behavioral science practice.
The big idea behind Rory's work is: turning engineering problems into perception problems. His thesis is that we don't perceive reality as much as our interpretation of it.
The same food tastes better if it's expensive and in a dimly lit fancy restaurant with fancy plates and cutlery. When it comes to our happiness, money has higher ROI improving the lighting and adding fast WiFi to the tube or Eurostar journey, than trying to make the journey faster.
Perception is reality.
A few years, he started the Nudgestock Festival, it's the world's leading festival of behavioral science and creativity.
At this year's Nudgestock, they had a number of great speaker's, here are my top 3 that were amazing.
Bri Williams (Expert in Behavioural Influence): Funny and how to make better decisions
Dan Ariely (Contemplation about social science and Covid 19)
Laurie Santos (The unexpected science of wellbeing, the most attended course @ Yale)
The five big ideas from Laurie on how to be happier today:
1. You don't really know what will make you happy - you think it's money, it's not
2. Make time for social connections
3. Reflect on your blessings, gratitude - try a gratitude journal
4. Reduce mind wandering and be present - meditation, mindfulness, walks
5. Become wealthy in time, not money - make do not do list, apply the pareto principle to your life
---
D. A Few Things Worth Checking Out

1. This Daily Mail article actually scared me. Peter Hitchens - as the Left now controls every lever of power, we face nothing less than Regime Change
2. My friend Jim Mellon, a visionary entrepreneur, billionaire master investor, and skilled spotter of global trends, recently discussed his views on longevity, biotech, the shocking turn of events in the US, whether we'll hit reset on the crises in inequality, capitalism and climate in any meaningful way, why China will have to reinvent itself, best future career and investment bets.
3. Wired reports on the rise of process automation as a result of COVID-19. The use of software to automate rote tasks, such as data entry or workflow approvals, will accelerate as AI begins to learn which tasks are amenable to automation and how to perform them. While software automation may increasingly impact higher paying desk jobs, it could also free employees to focus on more important tasks.
4. Invest Like the Best had John Collison, co-founder of Stripe, discussing how we are going to Grow the Internet Economy.
5. The world is a complex adaptive system. There are many more potential outcomes, rather than a narrow set of outcomes. One of the ideas, I've been learning more about is Complexity Science, the team at NZS did a great paper on complexity investing.
6. Chamath Palihapitiya chatted with the "mooch" at SALT a few weeks back.
---
Thanks JPL for this fun Eschler picture.